Access and rights for service dogs
A service dog is specially trained to help a person with a physical functional handicap.
---
In general:
A service dog is specially trained to help a person with a physical functional handicap. STH follows the international guidelines and standards described by service Dogs International (ADI)
www. servicedogsinternational.org/
A service dog is recognised by a blue cover with a clear service dog logo indicating that the dog is at work and has the necessary qualifications to be able to follow and help the user whenever necessary. Accordingly, it is clear to the general public that this is a specially trained dog. Furthermore, the service dog user has an ID card with photo which is presented on request.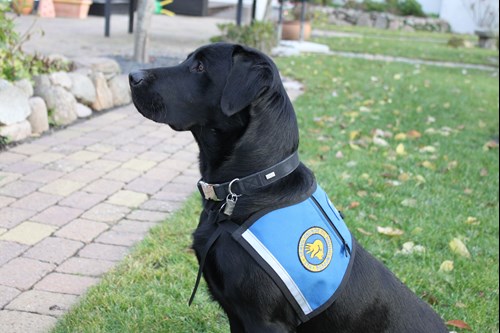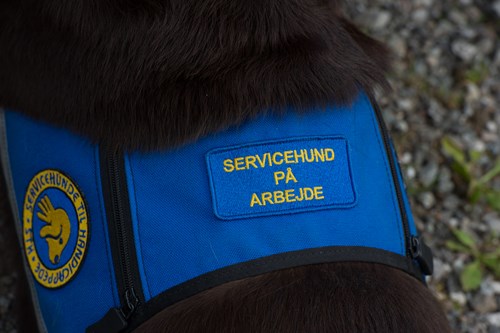 Foods enterprises:
Generally, domestic animals are not allowed access to places where foods are handled, cooked or kept. A service dog, however, has certain rights which a normal family dog does not have. Accordingly, the owner of a foods enterprise is able to allow access to service dogs, for instance, to customer areas in restaurants and in foods enterprises. The dog must be kept on a leash, and there must be no occasion for the dog to be in contact with foods. (See executive order on foods hygiene no. 1702 of December 15., 2016)( in danish)
Transport:
The Supervisory Board of STH has been working to improve the circumstances for bringing service dogs everywhere in public spaces. In September 2007, service dogs were then officially equaled to guide dogs for the blind and visually handicapped in relation to taxi driving. A service dog has access to transport in taxies together with the service dog user.
An service dog can accompany the user on the bus, train and in the metro, as long as the dog is wearing a special blue STH ID vest, and the user carries his or hers unique identification card referring to public test and STH
Read more about public transportation
Social housing:
It may, in house rules, be decided that it is not allowed to keep pets in social housing. The Supervisory Board of STH has just arranged for persons with physical functional handicap who depend on a service dog to be entitled to keep a service dog in social housing, irrespective of the provisions of the house rules. (Ministry of Welfare's executive order on operation of social housing no. 70 of January 26 2018)
Travelling abroad with your servicedog?
If you are planning to travel with your servicedog, remember - well in advance! - to talk to the vet about which vaccinations, dog passes, etc. that is required.
Airlines etc. You must notify the airline when you book your ticket. Not all airlines include service dogs in the cabin, check this first.
For further information, check ADIs website https://assistancedogsinternational.org/resources/travel-resources/