Access and rights for service dogs
A service dog is specially trained to help a person with a physical impairment.
---
A service dog is specially trained to help a person with a physical impairment. STH follows the international guidelines and standards described by Assistance Dogs International (ADI).
A service dog is recognised by a blue cover with a clear service dog logo indicating that the dog is at work and has the necessary qualifications to be able to follow and help the user whenever necessary. Accordingly, it is clear to the general public that this is a specially trained dog. Furthermore, the service dog user has an ID card with photo, which can be presented on request.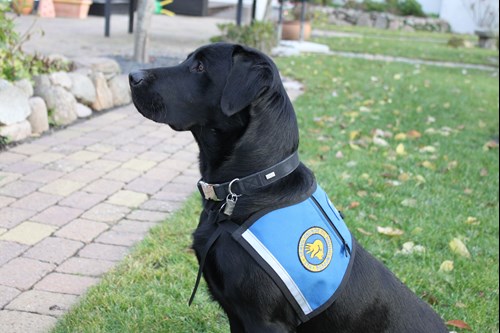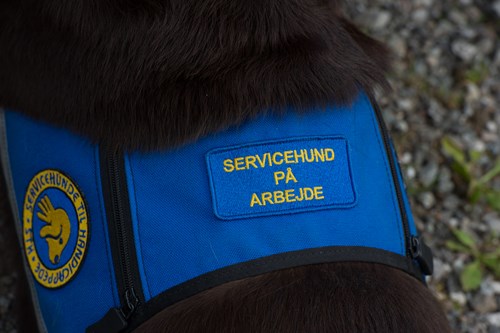 Restaurants and other food enterprises
A service dog, however, has certain rights which a normal family dog does not have. Accordingly, the owner of a food enterprise can allow access to service dogs, for instance, to customer areas in restaurants and in food enterprises. The dog must be kept on a leash, and there must be no occasion for the dog to be in contact with foods. Check first with the policy of the restaurant you're planning to visit.
Transportation
A service dog has access to transport in taxies together with the service dog user. Only when the driver is allergic to animals and is able to prove that via a certificate he or she is allowed to say no to a guide or service dog.
A service dog has unrestricted access to the bus, train and in the metro, as long as the dog is wearing the special blue STH ID vest, and the user carries his or hers unique identification card or mobile app referring to the public test and STH. Read more about public transportation
Travelling abroad with your service dog?
If you are planning to travel with your servicedog, remember - well in advance! - to talk to the vet about which vaccinations, dog passes, etc. that is required. The airlines requires a lot of documentation, so apply in due time.
Flying with your service dog
You must notify the airline that you are travelling with a service dog when you book your ticket, and be prepared to complete a lot of documents. Not all airlines include service dogs in the cabin, so check this first. For further information, check ADI's website https://assistancedogsinternational.org/resources/travel-resources/
Visiting Denmark with your service dog
Dog are very welcome in Denmark. Visit the website of the Danish Embassy in your country to find all information about travelling with dogs to Denmark.
If you bring a dog from an European Union (EU) country to Denmark, it is very important that the animal can be identified by a chip. The dog must also have an EU pet passport issued by a veterinarian, in which the veterinarian confirms that a vaccination or re-vaccination against rabies has been carried out. It is important that the last vaccination or re-vaccination is not older than the tattoo or the insertion of the chip. A new vaccination must have been carried out at least 3 weeks before entry. The duration of vaccination protection is based on the instructions of the vaccine manufacturer.
Bringing your pet to Denmark from a non-EU country: Requirements for pet travel are slightly stricter. You should also get a pet passport if at all possible or have your vet complete a standard Veterinary Certificate. Your dog or cat must also be vaccinated for rabies at least 21 days before traveling to Denmark. When you arrive in Denmark with your pet, enter customs and request a pet inspection. Danish customs personnel will help you with the process and will check the papers.
From April 1st to September 30th, you have to keep your dog on a leash on the beaches. In forests, it is mandatory to keep the dog on a leash all year round. Dog friendly areas – In Denmark, you can bring your dogs in some sections of the forest. In fact, you are allowed to let your pet run freely in the dog friendly areas, but be sure to check the local tourist office first. Other areas that are friendly to dogs include campsites, holiday cottage rentals.
The keeping, breeding and importation of the following 13 dog breeds is prohibited in Denmark if they were acquired after March 17th, 2010. Offenses are punished with a fine or a prison sentence of the dog owner, as well as with the dog being put to sleep: 1) Pit Bull Terrier, 2) Tosa Inu, 3) American Staffordshire Terrier, 4) Fila Brasileiro, 5) Argentine Dog, 6) American bulldog, 7) Boerboel, 8) Kangal, 9) Central Asian Ovtcharka, 10) Caucasian Ovcharka, 11) South Russian Ovcharka, 12) Tornjak, 13) Sarplaninac.